About Laurence Dorcy
Laurence Dorcy's great grandfather was James J. Hill, the "Empire Builder", founder of the Great Northern and Northern Pacific railroads, and owner of the First National Bank of St. Paul (a cornerstone of what is now U.S. Bank). Dorcy's grandfather was Louis W. Hill Sr., an equally accomplished businessman, who as President of the Railroads acquired northern Minnesota lands rich in iron ore deposits, ultimately given to Railroad shareholders as shares of the Great Northern Iron Ore Trust. L.W. Hill individually purchased vast tracks of Oregon timberlands and in 1917 put them in trust for the benefit of his wife, children and grandchildren. L.W. also championed the creation of Glacier National Park as a vacation destination for train passengers and in that endeavor formed close friendships with the Blackfeet Indians.
With that family legacy young Laurence "Baron" Dorcy had limitless opportunity. He was a capable scholar but quickly dropped out of Stanford and joined the Air Force, following his father, Lt. Col. Laurence H. Dorcy Sr.'s military example. During the tense 1950's cold war the young Lieutenant piloted Strategic Air Command refueling tankers. Thru out his life he looked back proudly at his years of service! Following his discharge he traveled between Tahiti, Hawaii and California. In Hawaii he was inspired by the exploits of Captain James Cook who discovered the Hawaiian Islands in 1779. He commissioned and supervised the construction of a replica of Cook's ship which was christened the Hawaiian Chieftain. The ship was built in Lahaina, Maui and upon completion Baron sailed it with a crew of his friends on its maiden voyage to Tahiti.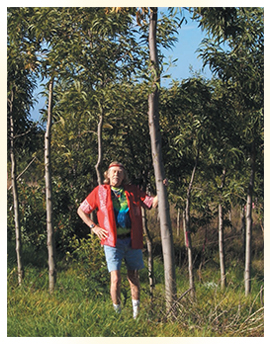 Baron had homes and condominiums in Palo Alto, CA, Honolulu and Lahaina. And then, perhaps still restless, he took on a huge project by purchasing 37 acres of land in upland Kula, HI. Against great odds he built a beautiful home, 9 car garage, workshop and guest house. Soon the garages overflowed with classic cars, surrounding him with friends and unlimited projects.
Baron used 17 acres of his precious Kula property to create a Koa seed orchard to help reforest Mount Haleakala. He completed that project, and by his death in 2011 the orchard was well established and professionally managed for production of site specific seed stock.
Baron Dorcy left this World in 2011 with some accomplishments, the greatest of which was a very long list of lasting friendships!
The Laurence H Dorcy Hawaiian Foundation
By terms of his Last Will & Testament Laurence Dorcy directed that a foundation be created in his name in support of his beloved Hawaii. He named individuals to serve as directors but left the work of creating a corporate entity, obtaining tax exempt status and charting a course for grantmaking to the directors, all with very little direction. By the conclusion of the Dorcy Estate administration in 2016 the Foundation was fully funded with about $20,000,000. As a private foundation it is required to make grants equal to 5% of its corpus, about $1,000,000 each year.
In carrying out Dorcy's vision the Directors have firmly established that Foundation grants will be made exclusively to Hawaiian tax exempt organizations. As a private foundation no grants are permitted to individuals.
Dorcy was very proud of a Koa tree plantation he established during his lifetime. The Foundation will continue to support organizations which foster education and ecology activities concerning traditional Hawaiian plants and trees.
The Foundation will also make grants and give some priority to organizations whose charitable purposes are consistent with Dorcy's demonstrated interests in railroads, U.S. military, classic automobiles, historical museums, animal humane societies and cancer treatment.